Here is the newest edition to our AWTravel MegaLists with this one focusing on the 101 Best Cities for Food and Cuisine.
#90. Guadalajara, Mexico
One of the top food spots in all of Mexico (which is like saying one of the top food spots in Italy, France, Japan, the US… you get the idea), Guadalajara is also Mexico's second biggest city and offers an array of great choices for the gourmands out there by looking at the best restaurants, traditional foods, and markets.
Some of the best restaurants in the city are La Tequila: Known for its Mexican cuisine, La Tequila offers dishes like mole poblano, chiles en nogada, and an extensive selection of tequilas. Next is Alcalde: This fine dining establishment serves innovative dishes inspired by local ingredients, such as octopus ceviche and braised short rib. Third is Birriería Las 9 Esquinas: A must-visit for birria lovers, they specialize in this flavorful Jalisco stew made with tender goat or beef. And fourth is Hueso: This unique restaurant showcases a creative menu and a visually stunning interior. They serve dishes like bone marrow tacos, roasted beet salad, and grilled octopus.
One iconic dish is torta ahogada, which is a crusty sandwich filled with tender pork and drowned in a spicy tomato sauce. Next is a staple called Birria, a rich meat stew traditionally made with goat or beef, which is another beloved specialty. Tacos dorados, crispy fried tacos stuffed with various fillings, are a popular street food option. Guadalajara is also known for its delicious "carne en su jugo," a flavorful beef soup served with beans, bacon, and fresh toppings. These traditional dishes capture the essence of Guadalajara's culinary culture and leave a lasting impression on food enthusiasts.
Mercado Libertad (San Juan de Dios Market): A vibrant hub offering a wide range of fresh produce, spices, local delicacies, and an immersive shopping experience. Mercado de Abastos: One of Mexico's largest wholesale markets, a bustling trade center is known for its diverse array of ingredients and products.
And make sure to check out the great tours in and around Guadalajara!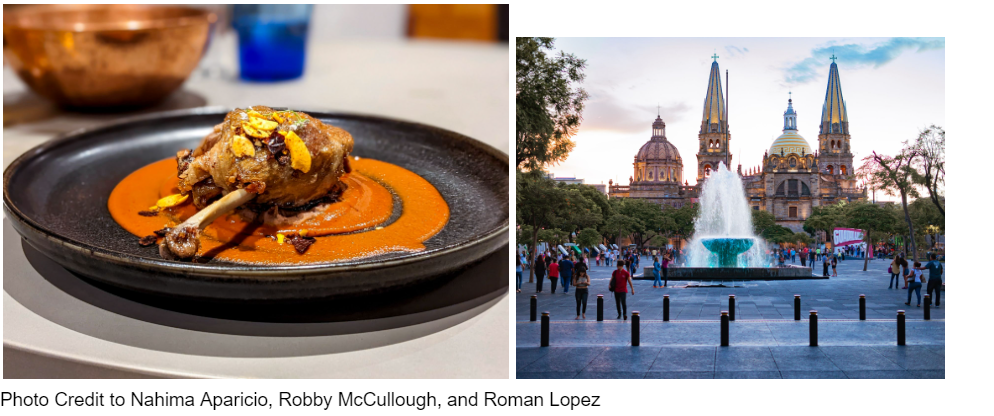 #89. Marseilles, France
Marseilles, France is the southern city of France and despite being totally unique from its larger and more famous rival city of Paris, it still manages to dispel large amounts of arts, history, culture, and of course food. So let's look at some of the best restaurants and traditional recipes.
Some of the best restaurants are as follows. First, Le Petit Nice – Passedat: A three-Michelin-starred restaurant renowned for its seafood dishes and stunning sea views. Second, L'Épuisette, located near Vallon des Auffes, this restaurant specializes in fresh fish and seafood prepared with finesse. Next is Le Miramar, known for its exceptional bouillabaisse, this restaurant offers a quintessential taste of Marseille's culinary heritage. Fourth on the list is Chez Fonfon, a local favorite for its authentic bouillabaisse, served with traditional accompaniments and warm hospitality. And, finally, Le Café des Épices, which is situated in the vibrant Panier district, this restaurant offers a mix of French and Mediterranean flavors and a charming ambiance.
Traditional food in Marseille is a delightful reflection of its coastal location and Provençal influences. One iconic dish is bouillabaisse, a rich fish stew made with an assortment of local fish, shellfish, saffron, and aromatic herbs. Another beloved specialty is panisse, a chickpea flour-based dish often served as fries or in a pancake-like form. Socca, a thin chickpea flour crepe, is another popular street food. Other regional delights include anchoïade (anchovy dip), tapenade (olive spread), and pieds paquets (stuffed sheep's trotters). Marseille's traditional cuisine celebrates the bounties of the sea and the vibrant flavors of Provence, leaving a lasting impression on any culinary adventurer.
Two great markets are the Marché du Vieux Port and the Marché des Capucins, which are great for food enthusiasts due to their offering of fresh produce, seafood, local cheeses, spices, regional products, and Mediterranean delicacies.

Well, that is all for now! Look for our next piece where we discuss the food scene in Stockholm and Montevideo!
Click here to GET IN TOUCH or Call us at (800) 294-5031
All World Travel – The Best Travel Experiences, Personalized for You.