748 words/5:45 minutes reading time
In this part of our series of 101 Best Food Cities in the World, we want to highlight Old San Juan in Puerto Rico and Kuala Lumpur, Indonesia. These two very different cities are sure to get our taste buds going and to remind us of one of the best pleasures in the world…Good Food!
#96. Old San Juan, Puerto Rico
Let's start with tradition here. In Puerto Rico, you are going to have soul food, comfort food, and food that is made with love, among those foods you will find handheld delicacies like tostones, amarillos, or frituras, which are all fried snacks filled with meats, veggies, and/or seafood. What makes these small dishes so nice is the variety and all the places you can find them. So, go find your favorite and tell us all about it!
Next, of course, is beans and rice, but this is just any simple dish, no, these beans and rice are made with onion, garlic, peppers, and ham hock, and served with squash, among other spice mixes and aromatics that add to this seemingly simple dishes textures and technicality. It is great when so much preparation. Usually served on the side of most of these dishes is sofrito — a cooking base made by blending onion, garlic, peppers, culantro, cilantro, oregano, and any secret family traditions that might apply.
Of course, a trip to Puerto Rico would not be complete without having some mofongo. This staple dish is traditionally made from deep-fried green plantain pieces mashed with garlic and either salt-cured pork, pork crackling, butter, or oil and can be served as a side dish or stuffed with any meat, such as stewed chicken, crab meat, octopus, skirt steak, fried pork, seafood, or stewed vegetables.
Of, course there are new approaches, perhaps the best to mention is Vianda Restaurant, which is blending tradition with more foreign flavors. For example, try lechona (pork belly) with kimchi. But there are tons of great restaurants and bars to visit while in San Juan.
Have a stay at the historic Hotel El Convento or learn more about all the things to do on this fantastic island.

#95. Kuala Lumpur, Malaysia
Kuala Lumpur, or simply KL as some call it, is one of the biggest 50 cities in the world and the capital of Malaysia. With over 8 million people in the general area, this city is going to have A LOT of choices to choose from. With just a small search you can see that there are 1) many, 2) many, 3) many, 4) many, 5) many, sources to choose from when seeking the best places to eat.
With that, we will try and cover some of the basics of KL.
One restaurant that you can see that gets multiple mentions is Cilantro, a French and Japanese fusion joint that is a standard for the city's most discerning clientele. And that is one of the main things about KL, is its fusion, its many influences from all over Asia and the rest of the globe. For example, for Chinese food, head to Petaling Street, where you can find authentic food from the Malaysian Chinese population.
For a more 'local' meal, one must try Nasi Lemak. Nasi lemak has many ways of cooking, but the basic ingredient is rice cooked with coconut milk, add a little bit of chili sambal, served with boiled eggs or fried eggs, fried dried fish, Malaysian curry or spicy curry sauce squid (sambal sotong). But, there are so many must-eat foods to eat in KL, too much to write here.
And of course, consider taking a food tour through Kuala Lumpur. Here you can have nasi lemak, satay (barbeque meat), curry mae (noodle soup), and yong tau foo (a Hakka Chinese dish with tofu). For snacks, there is paper dosa (thin pancakes) and pisang gorang (a banana snack). Finish the dessert end with cendol (a creamy dessert of coconut milk and green jelly noodles).
Stay at one of Kuala Lumpur's premier hotels, for example, the Shangri-La Hotel, where you can eat at Lafite, which specializes in European-style cuisine. With all these options, we can see why KL was named the best city for expats recently.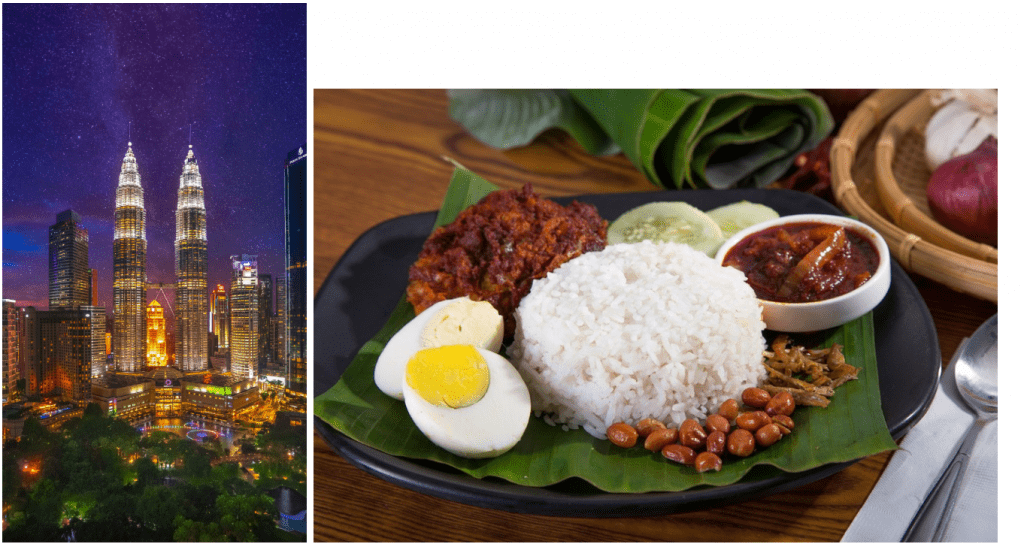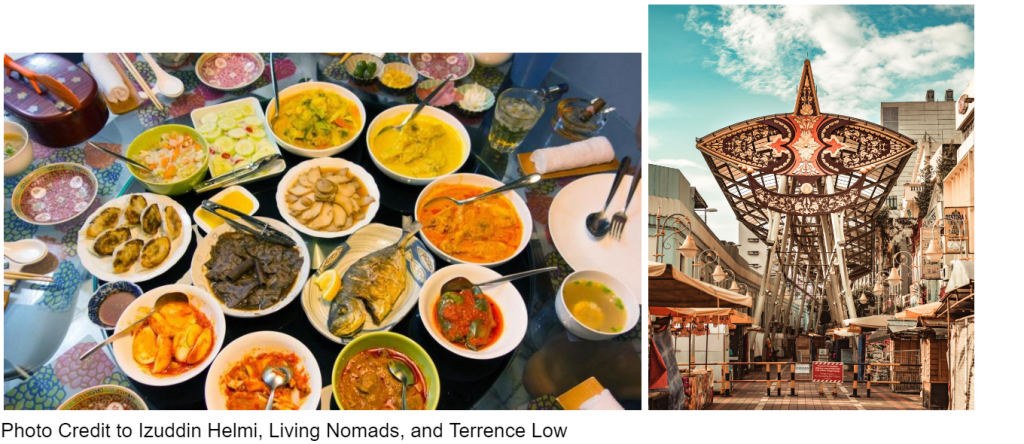 Well, that does it for this short piece. Next time we will cover Aukland, New Zealand, and Budapest, Hungary as part of our list of the 101 Best Food Cities in the World. A part of AWTravels MegaLists series.
Click here to GET IN TOUCH or Call us at (800) 294-5031
All World Travel – The Best Travel Experiences, Personalized for You.